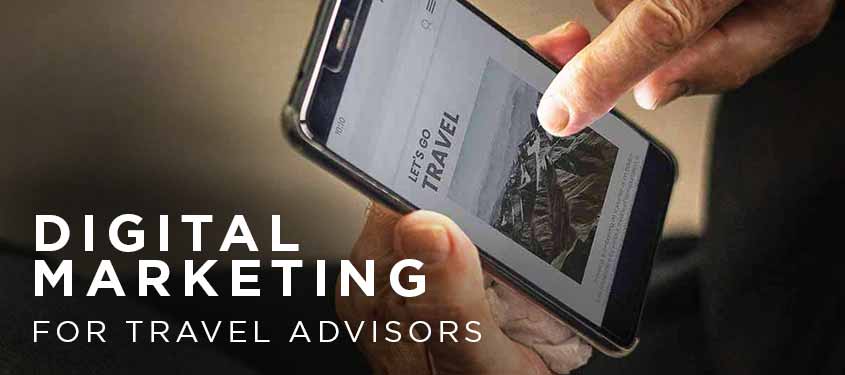 Best Digital Marketing Practices for Travel Advisors
In my short time of working in the travel industry for Your Travel Center/Montecito Village Travel (with a 10 year background in web design, interactive media and marketing), I've come to realize everyone is extremely busy and may not have the time or resources to do all of their own marketing. It can be very time consuming and expensive. This guide is a quick and easy drill down of the best, most efficient and price effective ways of driving new customers to your business.
There are dozens of different channels you can use to market: everything from social media, to organic, to referral, but how do you know which one is best for you? For the past year we have taken a deep dive into applying these marketing tools to the travel agent industry.
Here's a quick rundown of what I'll be covering:
Your Website
Social Media Marketing
Email Marketing
Google Ads
Blogging

1. Your Website
Think of your website as the central hub you're going to use to filter all of your online marketing initiatives to. Everything from Instagram, Facebook, email marketing campaigns, google ads etc should all be directed to a landing page where people can learn more, complete a call-to-action in exchange for free content.
This is why a well thought out, user friendly website is so important. If the language you are using is not clear, concise and to the point, users may drop off. On the technical side of things, if your site is not responsive, loads fast, or simply does not function correctly then users may drop off.
Here are a couple of tools you can use to see where your site stands:
For any other questions and to get help with your website, contact us here (ncabugos@ytc.com).
2. Social Media Marketing
First of all, it's good to point out that you don't need to be on every single social media network out there. We've seen the most results from Instagram and Facebook, but Youtube can be useful as well. There is also Twitter, LinkedIn, Google+, Pinterest, Snapchat… they're all great but we have not seen the best result using these channels. Youtube hasn't necessarily generated the most leads, but it is a great tool to have if you like to create original videos, repost supplier videos, and it also allows you to embed these videos on to your website (Vimeo does the same thing).
Instagram is heavily saturated with travel industry content but that does not mean you won't find success. It's all about the quality of your photographs (or photos you repurpose from suppliers). You want to post highly compelling, mind-blowing images and videos that people don't see every day. Here are some great accounts with some amazing content you can follow for inspiration:
Facebook Paid and Lead Ads -
This is a great platform for generating leads especially with paid ads. They have a VERY robust ad tool for creating targeted ads. You can even take your existing client database, upload it and create a look-a-alike audience to market to the same demographic.
Here's a great article on creating Facebook ads that work:
https://blog.hubspot.com/blog/tabid/6307/bid/33319/10-examples-of-facebo...
And another article how to create a Facebook lead ad:
https://www.hubspot.com/facebook-marketing/facebook-lead-ads
The other social networks I won't get into but I will be happy to talk to you more about them if you email me.
Managing Social Media and Creating Content -
This can be very time consuming, tedious, annoying, whatever you want to call it but also a lot of fun and rewarding when you learn to do it right. Creating your own original content takes time as well. Say you decide to buy a new GoPro or a Canon EOS 5D Mark IV DSLR. Getting the right shot is one thing, then when you get home there's the matter of connecting that camera, uploading your content, sifting through the content to find your best shots. Next, there's the process of editing, filtering, formatting, captioning and uploading to the network of your choice. If you want to create your own content please do! I highly encourage it and it is well worth the effort.
Check out this article for creating Instagram-worthy photos:
https://later.com/blog/how-to-take-good-instagram-photo-with-your-phone/
If you're not into creating your own content, don't worry, we work in the travel biz. There's so much content out there it's insane. I have a list of almost every supplier image library out there (preferred suppliers only). Virtuoso has a great image library and should be even better once they release their all new MyMarketing platform. Also take advantage of free stock photo websites such as http://unsplash.com/, which is my favorite, go-to source. Other paid sources include istockphoto.com and Adobe Stock.
When it comes to managing your social media the best thing to do is create a social media calendar. Luckily, there are tools out there that make it easy for you. Here's a list of a few I've used in the past:
Virtuoso is launching their MyMarketing platform in January of 2018 which has new tools to manage your social media, as well as a library of premade posts to choose from. Visit the link here to learn more.
Hashtagging -
Some people hate them, and some people love them a little too much. But did you know that posts with at least one Instagram hashtag average 12.6% more engagement than posts without a hashtag?
To this day, building an effective hashtag strategy is one of the best ways to get your posts discovered by new audiences on the platform — and depending on how targeted your hashtags are, this can mean more engagement, more followers, and even more customers.
Here are the things to keep in mind when hashtagging:
Research the destination, hotel or supplier you are visiting or posting about - A lot of times tourism boards have already generated their own hashtag strategy for the destination (#visitMexico, #inspiredbyiceland, #thisisegypt). Big brands have absolutely hired a marketing agency to develop their strategy (#DCmoments, #RWJourneys, #RCMemories). A theme you'll start to see when you start researching hashtags is that they're trying to capture experiences and what makes that destination memorable. Virtuoso has done a better job in consolidating their hashtag into simply #VirtuosoTravel. So if you're trying to be recognized within the industry be sure to use that hastag.
How are you supposed to find these cool, creative, and community-oriented hashtags? - The best way is to look and see what Instagram hashtags your audience, competitors, and industry leaders are already using. The narrower the scope of the hashtag, the more engaged the users are.
If you can, use the maximum hashtags allowed (up to 30) - This will give you the most opportunities to be discovered. Just make sure they're relevant to your post!
Become a hashtag expert:
https://later.com/blog/ultimate-guide-to-using-instagram-hashtags/

3. Email Marketing
This is a tricky subject these days. After everything that happened with GDPR and data privacy regulations, rules have become a lot stricter. Email best practices in terms of design, copywriting, subject line etc are tricky as well. Here are some general guidelines:
Don't Purchase Contact Lists
Use Incentives to Increase Open Rates
Avoid Using 'No-Reply' in the Sender's Email Address
Stick to Fewer Than Three Typefaces
Clean Your Mailing List Regularly
Keep the Main Message and Call-to-Action Above the Fold
Personalize the Email Greeting
Keep Your Email 500-650 Pixels Wide
Put Your Logo in the Upper Left-Hand Side of the Email
Write Compelling (But Concise) Subject Lines
Use Auto-Responders for Opt-Ins
Closely Tie Emails to Landing Pages
Conduct a Five-Second Test
Read more about each of these in more detail here:
https://blog.hubspot.com/blog/tabid/6307/bid/23965/9-email-marketing-best-practices-to-generate-more-leads.aspx
How to Create Custom Email Campaigns -
All you need to create an email campaign is a list of emails to market to. You may already use an automated service through ClientBase and Virtuoso, there's also the new MyMarketing platform that is launching in January from Virtuoso. Here are some additional applications to check out:
4. Google Ads
What was once known as adwords has simply become Google Ads. This is one of the best ways to drive traffic to your site. Google ads are essentially paid search advertising that are used to drive more leads and customers to your business. SEM (Search Engine Marketing) is a term used to describe various methods of marketing via search engine (Google, Bing, Yahoo), and entails both organic search engine marketing (SEO) and paid search strategies. You can get by with a strong organic SEO strategy which can be enhanced by blogging regularly. Paid search will allow you to get results faster.
For a complete guide on how to use Google Ads, download the pdf here.
5. Blogging
First of all what is blogging and what are the best strategies to follow when creating original blog content?
Business blogging is a marketing tactic that uses blogging to get your business more online visibility. A business blog is a marketing channel (just like social media, direct mail, email marketing, etc.) that helps support business growth.
Why should you use blogging as a marketing tactic -
1) It helps drive traffic to your website.
Blogging helps drive new traffic to your website and works closely with search engines and social media to do that. Every time you write a blog post, it's one more indexed page on your website, which means it's one more opportunity for you to show up in search engines and drive traffic to your website in organic search. Blogging also helps you get discovered via social media. Every time you write a blog post, you're creating content that people can share on social networks -- Twitter, LinkedIn, Facebook, Pinterest -- which helps expose your business to a new audience that may not know you yet.
2) It helps convert that traffic into leads.
Now that you have traffic coming to your website through your blog, you have an opportunity to convert that traffic into leads.
Just like every blog post you write is another indexed page, each post is a new opportunity to generate new leads. The way this works is really simple: Just add a lead-generating call-to-action to every blog post. These call-to-actions can lead to things such as downloadable brochures, pdfs of the benefits of working with a travel advisor… any content you want to offer in exchange for their contact information.
Here's how conversions work:
Visitor comes to website
Visitor sees call-to-action for a free offer
Visitor clicks call-to-action and gets to a landing page, which contains a form for them to fill in with their information
Visitor fills out form, submits information, and receives the free offer
3) It helps establish authority.
The best business blogs answer common questions their leads and customers have. If you're consistently creating content that's helpful for your target customer, it'll help establish you as an authority in their eyes. This is a particularly handy tool for Travel Advisors by showing off your expertise and knowledge of the travel industry.
4) It drives long-term results.
Once a blog post is published, that blog post is now ranking in search engines. That means for days, weeks, months, and years to come, you can continue to get traffic and leads from that blog post. That's why your blog strategy is so important. Instead of blogging about sales that have a limited timeline, try to come up with articles that your target market is actively searching for in Google that is going to add value or answer a question.
All of this is explained in more detail in the article here.
What are some of your favorite travel blogs you follow? Please share, email me at conniem@ytc.com.