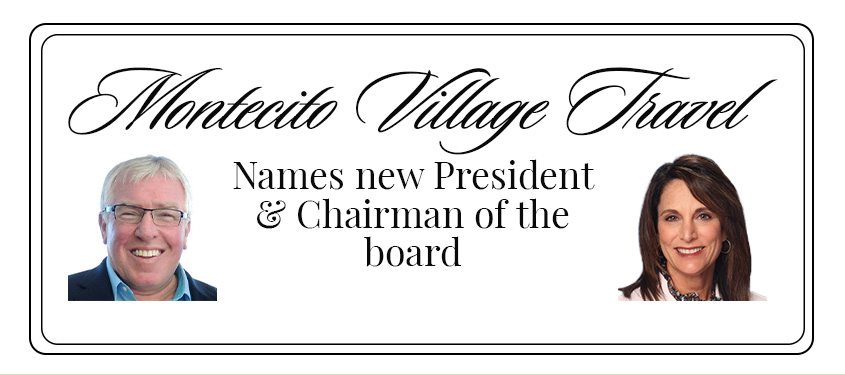 Exciting changes are in the air as Robin Sanchez, CTIE, is promoted to the position of President of Your Travel Center, Inc. dba Montecito Village Travel and former President and CEO, Colin Weatherhead, continues as CEO and assumes the position of Chairman of the Board. Montecito Village Travel is a leading Virtuoso agency and a pioneer in the hosting industry. These promotions became effective April 1, 2022.
According to Weatherhead, "It should come as no surprise that Robin will be leading the company forward as Robin has been an integral part of MVT for 30 years. She has done a magnificent job in supporting all of MVT's endeavors and has been especially instrumental in molding our core business as a leading host agency. Her passion, focus and industry knowledge will help to shape the future of Montecito Village Travel."
Since joining Montecito Village Travel in 1992, Sanchez has held positions of increasing responsibility in nearly all areas of the company. Most recently, she served as the company's Chief Operations Officer.
"I'm thrilled at the opportunity to lead the company forward, aided by the expertise of our long-standing executive team whose passion and diverse talents complement one another perfectly. Together we will continue to grow Montecito Village Travel with quality advisors by remaining true to our core company philosophy which, simply stated is 'our success is only measured by the success of our advisors'," said Sanchez.
Sanchez is well-known in the travel community and currently serves as a member of the ASTA IC Advisory Committee, ALLIES Content Committee, Female Leaders in Travel and CCTO. Past positions include Professional Association of Travel Hosts (PATH) Secretary, Orange County ASTA Board Secretary and the ASTA AGC Education Committee.
Montecito Village Travel's reorganization also includes the promotion of Chris Weatherhead to Chief Marketing Officer, Product & Partnerships (CMO, Product & Partnerships); Connie Miller to Chief Relations Officer, Business Development (CRO, Business Development); Geana Bielenda to Chief Accounting Officer (CAO) and Shane LeFeber to Chief Operations Officer (COO). These promotions were also effective April 1, 2022.
About Montecito Village Travel: Montecito Village Travel, headquartered in Santa Barbara, CA, has three offices and over 650 independent contractors throughout 37 states and three countries. Celebrating its 50th anniversary, MVT is considered to be a pioneer in advisor and agency hosting with nearly 30 years of direct hosting experience. Today, it is a leading boutique travel agency for experienced advisors in the luxury leisure, corporate and group arenas. MVT's success is measured in many ways including a 20 percent increase in independent contractors in 2020-21, its 2021 Magellan Award for their work in crisis communication and most importantly, for advisor satisfaction. As a result, sales projections for 2022 show that MVT will exceed 2019 sales.