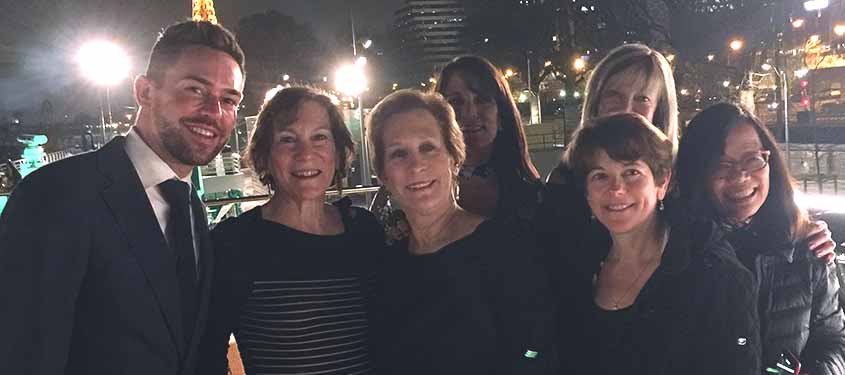 On March 18, 2018, the "Top 3" revenue producers for River Cruises and the "Top 3" producers for Ocean Cruises joined owners Colin Weatherhead, Robin Sanchez and Jacki Jones and Joseph Barney, Uniworld, for Your Travel Center/Montecito Village Travel's first ever Owner's Cruise.  This select group of advisors included Foy Renfro, Judi Walker, Patti Koide, Lynn Rudin, Effie Patrianakos, Vicky Voll, their guests and Chris Weatherhead.
Sailing from Paris, France, aboard Uniworld's SS Joie de Vivre, the group explored the Normandy region, built relationships and experienced the Uniworld product.  More importantly, it provided opportunities to learn from one another.  "I was able to connect with five highly successful agents and we all shared information to help our businesses grow" said Patty Koide.  Lynn Rudin shared, "No doubt, this event strengthened relationships and helped further grow my knowledge as an Advisor.  I'm grateful to YTC/MVT for this recognition and opportunity!"  From Vicky Voll, "We were able to share ideas, tell some funny stories, learn from each other and overall, recharged us by validating (that) we were on the right track." "Having one-on-one time with Your Travel Center/Montecito Village Travel ownership was extremely beneficial." said another.  
Colin, Jacki and Robin all expressed extreme pleasure to be able to reward top producers and showcase our very best cruise advisors with a preferred partner, Joseph Barney of Uniworld.    
Despite an unusual snowstorm, the trip accomplished what it was set out to do… reward advisors, create connections and build camaraderie.  According to Robin Sanchez, COO, "This was amazingly successful and we hope that this will become an annual event."