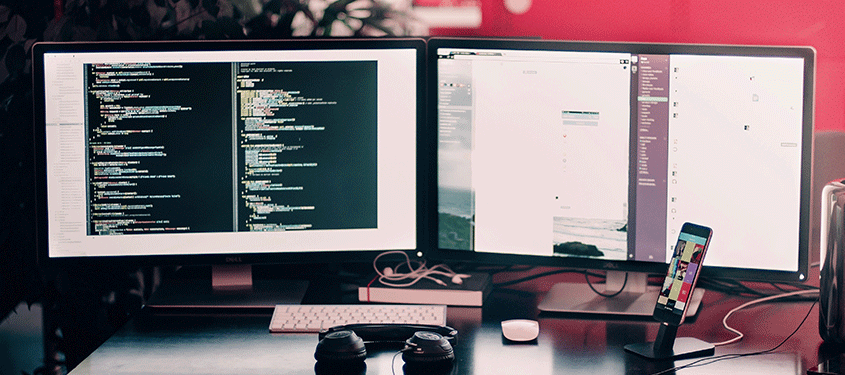 Do you feel you need more hours in your day? Are you worried that you are taking shortcuts in your service jut to keep up with the pace? If so, then I have a secret to share with you today that will provide you more time to spend on the parts of your business that you love and the ability to enhance your client services.
"What is this secret?" In a word… Automation. To be more specific, let's use two words, automation technology. Now, before your eyes glaze over at the word automation (or the word technology for that matter), let's take a closer look at what automation means and doesn't mean.
Automation means removing manual tasks from your workday allowing you to concentrate on what matters most
Automation, done right, means your clients have a customized, professional, consistent and personalized experience
Automation, done right, means you protect your business by collecting data in a secure manner
Automation, done right, provides peace of mind
Automation, done right, means personalization
So, what can be automated? Just about anything that is currently being done manually, such as:
Inquiries – Regardless how clients reach out to you, an initial contact email (with a link to collect basic information such as email, phone, name, etc.) can be sent to the client as well as a scheduling link to your calendar for appointment setting. Better yet, that information can then incorporate back into your CRM
Data Collection
Follow-up communication
Dynamic and interactive travel proposals and document delivery
Social Media Posting
Before you research technology solutions, however, you need to first identify your processes by:
Creating a flowchart of what happens during the entire sales process… the initial inquiry, the discovery phase, the quoting phase, the document delivery process and associated follow-up and by
Collecting the forms that you use for each of these phases… your letter of engagement, insurance waivers, standard emails and follow-up emails.
Once you have a handle on your workflow, look at available automation tools. The best news I have for you is that you may already have tools you need. If not, there are many no-cost and low-cost technologies to help you.
The first place to start is with your Customer Relationship Management (CRM) system. There are many different platforms to choose from and regardless if you are using software provided from your host agency or you purchased a separate product, take time to learn and understand your CRM's capabilities beyond simple invoicing. I guarantee that you will be amazed at what your CRM can do for you. If, after fully understanding your CRM's capabilities, you feel that you need more, then consider a different CRM and check out options. Many CRMs offer a full suite of services, including lead and sales tracking with the ability to build automated workflows that automate the client experience by gathering traveler details, preferences and e-signatures through the use of customized forms and email templates.
Once you fully understand the capabilities (or shortcomings) of your CRM, you can look at other automation processes to augment your services. The list below shows software options used by advisors in the categories of Document Sharing, Messaging, Audio/Video Conferencing, Email and a category called Multipurpose Tools. This list was created by advisors for ASTA's session on Whiz Bang Technology at this year's ASTA Global Conference. Many of these services offer a FREE version and/or a trial for you to determine if the software meets your needs.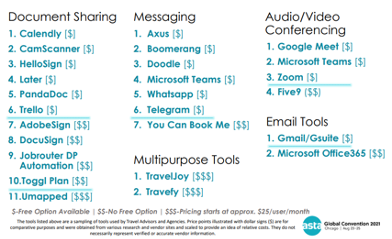 This information came from the 2021 ASTA AGC Convention class. Whiz Bang (Affordable) Technologies for You and Your Agency.
We hope this article has sparked your imagination and that you take the time to streamline your processes using technology.  The possibilities are endless and the rewards great.  You benefit not only from an efficiency standpoint, but by providing a seamless professional experience for your clients, protecting you as a business owner by ensuring that important steps are not skipped, forgotten or missed. 
Article written by Connie Miller, VP of Business Development, Your Travel Center/Montecito Village Travel, Santa Barbara, CA 
Montecito Village Travel is a host agency with over 550 Independent Contractors and several branch offices.  Connie is responsible for growing the agency through Independent Contractors and Agencies.   Her career path includes work as a Sales and Marketing Director, Corporate Travel Account Manager, Office Manager, Group Travel Coordinator and Travel Consultant. Connie's passion for travel is evident and it underscores her personal philosophy is travel is the perfect way to bring the peoples of the world together.